SteadyCare has committed to walk and raise money for the American Diabetes Association, for our third year in the Step Out Walk on Boston Common on October 21, 2017.
The Boston Step Out is a one-day signature fundraising walk benefiting the American Diabetes Association. Walkers can choose to do a 1, 2, or 3 mile loop around the historic Boston Common. The rest of the day is filled with music, snacks, kids activities, local entertainment and most importantly, the company of those who truly understand the impact of diabetes.
Our walk last year was very successful—thank you to everyone who donated and/or walked! We had a great day. The weather was beautiful and we learned about diabetes from our Team Captain, Bill Flynn, who has Type I Diabetes. As we walked he had to check his blood sugar and carry juice and nutritional snacks to be prepared for possible changes. He told us of the many things that can affect his diabetes, such as exercising (the walk we were on), stress, too much or not enough of the right food, sleep, etc. We were happy to see many volunteers on the side handing out water and snacks for all the walkers.
Here is a 2016 team picture and a link to a video from last year's walk:  Video of 2016 Step Out Walk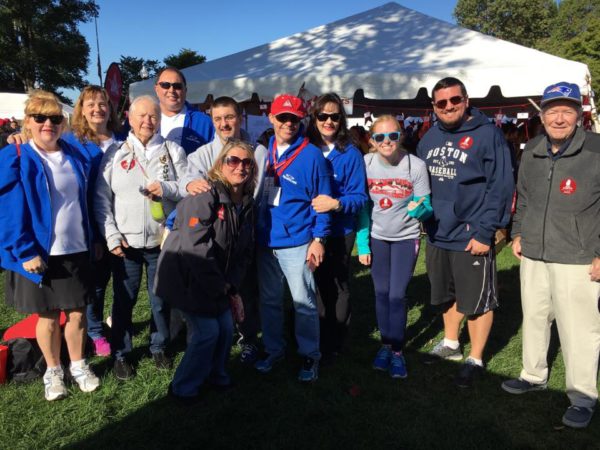 This year is even more special because it's the 75th Anniversary of the American Diabetes Association.  No better time than now to support us in celebrating 75 years of continuous progress working to improve the lives of people with diabetes through research, advocacy, and education.
Please consider contributing again this year by donating to our walk on October 21, 2017. Our goal is to raise $29.00 per donor, in honor of the 29 million people who live with Diabetes—we look at it as one step at a time.
To help support our efforts, to make an impact, and to shape the future of diabetes, please click on the Donate link and pledge your support.
Donate-$29.00 For Diabetes Walk 2017
We are forever grateful for your support. Together we can Stop Diabetes!